About Autoliv (Global):
Autoliv is the world's largest automotive safety supplier, with sales to all major car manufacturers in the world. Our more than 66,000 associates in 27 countries are passionate about our vision of Saving More Lives.
A Fortune 500 company headquartered in Stockholm, Sweden, and incorporated in the state of Delaware, U.S., Autoliv Inc. is the result of a 1997 merger of the Swedish company Autoliv AB and the U.S. company Morton ASP. Listed in New York Stock Exchange (ALV) and Nasdaq Stockholm (ALIVsdb)
History: Industry Pioneer in Automotive Safety
Brave decisions, a focus on quality and a desire to remain at the technological forefront have made Autoliv a worldwide leader. Autoliv has been responsible for virtually all major technological breakthroughs within automotive safety for more than 60 years.
Autoliv develops, manufactures and markets airbags, seatbelts and steering wheels. Our products are sold to all leading car manufacturers worldwide. When a traffic accident occurs, our products have a few milliseconds to prove themselves, saving the lives of drivers, passengers and pedestrians.
Vision, Mission and Values
Autoliv's mission is to be the leading supplier of safety systems for the future car, well integrated with autonomous driving.
Autoliv's vision of Saving More Lives provides inspiration for more than 66,000 associates in 27 countries.
Our values – One Autoliv, transparent, innovative and agile – are a reflection of our company's DNA, as well as how we will succeed going forward.
Strategies
Guided by our vision of Saving More Lives, Autoliv's overall purpose is to create value for our main stakeholders: customers, owners and creditors, business partners, employees as well as family and society.
Autoliv has three strategies to stay ahead: Quality, One Product One Process, and Innovation
 Our Business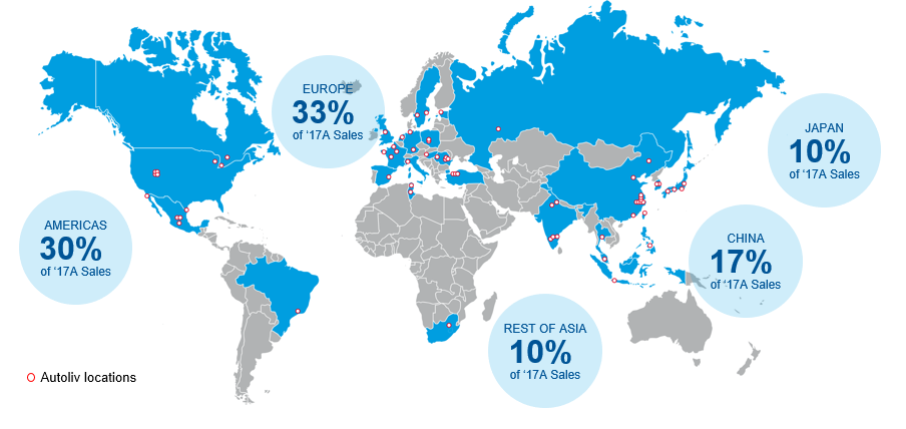 Autoliv India :
Autoliv India Pvt Ltd is the leading manufacturer of passenger safety product for vehicle in India. Autoliv India Pvt Ltd started its business in 1994 JV with IFB (SB production), later in 2007 Autoliv Manesar was started with 100 % AB production, and In 2008 Autoliv India became 100% subsidiary of Autoliv Inc. Sweden and completely moved its set up to current location at Hoskote. Autoliv India Pvt Ltd is manufacturer, supplier, exporter and trader of safety products such as seatbelts, airbags & steering wheel. Autoliv will remain the top supplier in the market with close to 50% market share by ~2019-20. Looking at the rate of growth, there is a need for expansion, hence we are in the process of relocating the plant different location to support the capacity requirement.
Autoliv India Pvt Ltd has around 2500 employees spread across 5 locations in India. We have plants at Bangalore (Hoskote), Mysore, Chennai,  Manesar & Engineering Center at Manyata Tec park, Bangalore, who ensures timely supply and support to customers. Autoliv India Pvt Ltd customers are Tata, Hyundai, Maruti Suzuki, Ashok Leyland, Honda, Fiat, Ford, GM, Renault – Nissan, Toyota & Mahindra and Mahindra.